---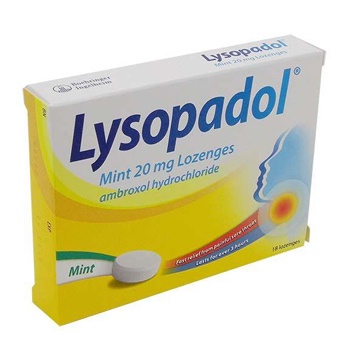 LYSOPADOL 20MG LOZENGES MINT
---
Lysopadol Lozenges for fast relief from sore throats.
Description

Fast relief from sore throats lasting over 3 hours.
Ingredients

Contains Ambroxol Hydrochloride, an ingredient proven to relieve pain and redness in sore throat with its local anaesthetic and anti-inflammatory properties.

Ingredients: Ambroxol Hydrochloride, Sorbitol (E420), Peppermint aroma (gum arabic, peppermint oil, maltodextrin, lactose monohydrate), saccharin sodium, macrogol 6000 and talc.
How to Use

Adults and children over 12: One lozenge should be sucked when needed and up to a maximum of 6 per day.

Suitable for diabetics.

Not recommended in children under 12.

Do not use if pregnant or breast-feeding or sensitive to any of the ingredients or fructose intolerant.