---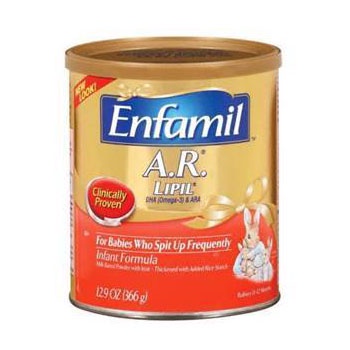 ENFAMIL AR LCP POWDER 400G
---
Description
Enfamil A.R can be used for infants from birth onwards, suffering from regurgitation or spitting up. Enfamil A.R is a nutritionally complete, pre-thickened formula containing a unique rice starch thickener that is thin in the bottle and thickens in the stomach.

Enfamil A.R has a similar consistency to routine infant formula in the bottle, allowing it to flow through a standard teat.

Enfamil A.R thickens slightly when refrigerated but returns to normal consistency when warmed before feeding.
Ingredients
Enfamil A.R contains the recommended DHA (omega 3) level to support normal visual development.
How to Use
Wash hands thoroughly.

Clean and boil bottles, teats, caps and utensils in water.

Boil fresh water and cool to room temperature.

Pour desired amount of water into clean bottle.

Add required number of level scoops of powder - see feeding guidelines.

Cap bottle, roll and shake well until powder dissolves completely.

Check temperature on the inside of your wrist.

Once prepared formula can spoil quickly.

Feed immediately after preparation or cover and store in the fridge.