---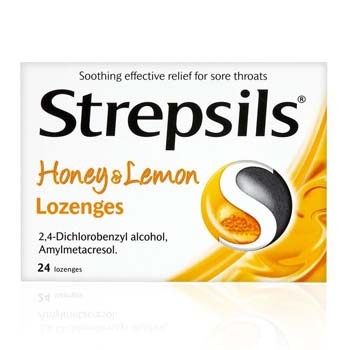 STREPSILS HONEY AND LEMON 24'S
---
Strepsils Honey and Lemon lozenges for relief of mouth and throat infections.
Description

Strepsils lozenges are dissolved slowly in the mouth help fight bacterial throat infections and relieve sore throats.
Ingredients

Each lozenge contains Amylmetacresol 600 micrograms and 2,4-Dichlorobenzyl alcohol 1.2mg

Also contains 1.441g sucrose, 976mg glucose
How to Use

Dosage:

Adults: One lozenge to be dissolved slowly in the mouth every 2 – 3 hours. Do not take more than 12 lozenges in 24 hours.

Children over 6 years of age: As above for adults.

Children under 6 years of age: Not suitable for children under 6 years.

Elderly: There is no need for dosage reduction in the elderly.

It is recommended that the product should be used for a maximum of 3 days.