---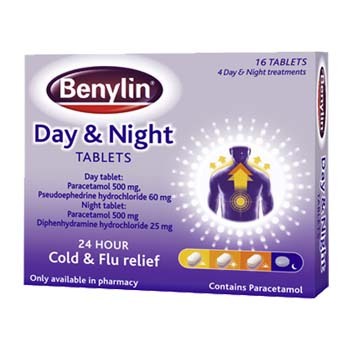 BENYLIN DAY & NIGHT TABLETS
---
Benylin Day & Night Tablets to help reduce temperature, relieve aches and pains, help clear congestion and so make it easier to nod off at night.
Description

Benylin Day and Night Tablets are used for the relief of cold and flu symptoms. This medicine is for use in adults and children aged over 12 years.

The white day time tablets help to relieve pain and fever and unblock stuffy noses. The blue night time tablets contain an antihistamine which helps clear catarrh and so so make it easier to nod off at night.

Follow the dosage instructions carefully. This pack contains 2 different coloured tablets, for use at different times of the day.


Ingredients

The active ingredients in Benylin Day and Night tablets are:

Day Tablets: 500 mg Paracetamol and 60 mg Pseudoephedrine hydrochloride.

Night Tablets: 500 mg Paracetamol and 25 mg Diphenhydramine hydrochloride. Diphenhydramine helps to relieve a runny nose, whilst pseudoephedrine causes the blood vessels in the nasal and sinus passages to contract and narrow, reducing congestion and the production of excess mucus. Paracetamol helps bring down a fever and provide relief from headaches or bodily aches and pains.
How to Use

This medicine is suitable for most adults and children aged over 12 years but a few people should not use it. If you are in any doubt, talk to your doctor or pharmacist. For oral use only.

Do not take more than the stated dose shown below.

Take with a glass of water.

Adults and children aged 12 years and over:
Day time: 1 white tablet every 4 - 6 hours, up to 3 times a day (one tablet in the morning, at mid-day and in the afternoon).
Night time: 1 blue tablet to be taken at night.


Children under 12 years old. This medicine is

not recommended

for children under 12 years old.