---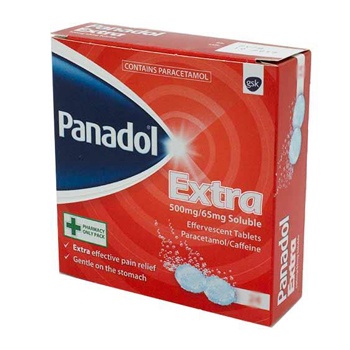 PANADOL EXTRA SOLUBLE TABLETS X 24
---
Description
Panadol Extra Soluble tablets contain 500mg Paracetamol and 65mg caffeine, they are effective on pain and don't irritate the stomach. They are particularly suitable for headache, migraine, backache,toothache, rheumatic pain, muscle pain, period pain, cold and flu.
Ingredients
500mg Paracetamol and 65mg caffeine. Contains sodium.
How to Use
Adults and children over 12: Dissolve two tablets in at least a half tumbler of water.

Take two tablets every 4 hours as required.

No more than 8 tablets to be taken in 24 hours.

Contains Paracetamol. Do not take with other products containing Paracetamol.

Suitable for children over 12 only.

Contains sodium. If you have taken too many tablets or suspect that you may have, seek immediate medical advice, even if you feel well.